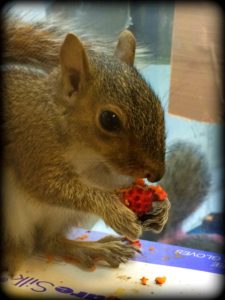 Want to be a volunteer forager, but don't know who to donate your gift to? As I addressed elsewhere, wildlife rehabilitation is an activity regulated by state laws, so whether or not wildlife rehabilitation exists in your state and how it is organized is something you will need to explore.
In Virginia, you can find rehabilitators through the Virginia Department of Game and Inland Fisheries.  VDGIF is the regulating and enforcing  body in Virginia for wildlife rehabilitation.  You'll see that some rehabilitators work with many or all species of wildlife.  Some specialize in just one or two species.
For other states, I recommend starting with a Google search.  You can also get some limited help from the National Wildlife Rehabilitators Association . Or you can try your state's game and hunting management department.
Once you find some ideas of rehabbers near you—who, by the way is probably a volunteer like yourself— I suggest you call them to start a discussion about whether they'd like to use wild foods in their work and if so what types of foods would be beneficial to them. Rehabbers are extraordinarily busy people, especially in spring and summer when they have the most wild mouths to feed, so it is important for you to do what the rehabber actually wants, rather than what you think would help. And it would be much better to reach out during the off season (winter) when they have time to actually think about your offer.
For example, at the Wildlife Center of Virginia, we loved getting wild foods, but really could only use black walnuts if they were hulled. Lots of folks brought us bushels and bushel of in-the-hull black walnuts. Hulling black walnuts is a very time-consuming pain. Most of those in-the-hull nuts went straight to compost and never got near a patient because the staff did not have time to hull them themselves. But when the walnuts came in hulled, THAT was a truly valuable volunteer service! So, lesson is: communicate with your rehabber.
Even once you start delivering food, take some time in the off-season to get some feedback about what worked and what did not from the rehabbers perspective. Remember, you are spending your valuable time doing this time-consuming foraging.  So you want figure out how to make it easy for the rehabilitator to get all that wild food into wild mouths!
And one more word. Don't assume the rehabilitator knows who to feed your precious gifts to. Take the time to print out a list of animals that eat the food you are supplying. Anything you can do to make it quick and easy on the rehabber increases the chances your efforts will be utilized fully. It is hard for non-rehabbers to imagine just how busy rehabbers are in the baby season.